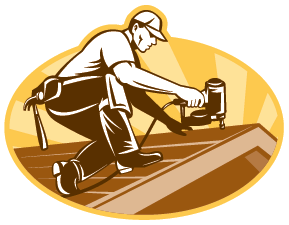 I had a major ice dam on a Sunday with water pouring into my house.
Everyone I called had a 7-10 day wait. Doug was able to squeeze me in the next day and worked like crazy to clear the ice. They were very professional, worked non-stop and were careful of the roof (no damage). Great job and highly recommended!
Karl H.

We had an ice dam that needed to be removed ASAP.
My husband stopped them on a Sunday evening desperate for help. We had contacted several other companies and couldn't reach any of them because it was a busy time. Doug was punctual and at our house Tuesday morning as planned, and efficiently removed up ice dam.
Heather E.

It went well.
Shortly after they arrived and got started the dripping stopped. They were very personable and professional. Hopefully, I won't need them again, but I will recommend them.
Maria P.

I had an emergency.
Water was coming in the window wells in two bedrooms. I found Doug's Roofing on Angie's List and wanted to use them because they were local. I called Doug and he said they would be out the next morning. They arrived just before 8:00 AM, explained the plan and went to work. Throughout the day Johnny came to the door and showed me pictures of the roof and the size of the ice dams. Wally and Johnny worked all day long and solved my problem. I was so relieved. They were friendly and informative. I was very thankful for their service.
Julie U.

Doug's service from beginning to end was great.
He called me back within 2 hours when I first contacted him and was very professional both on the phone and in person. He thoroughly explained what he would do to deal with the ice dams on our roof, and exactly what his charge would be for that service. My husband and I were very impressed and would definitely use Doug's Roofing in the future!
Kathryn L.